2019 Calendar - Florida Conference Events
February 2019
February 28 - March 3  •  NAD Bootcamp
This BootCamp is for Church Planters, Pastors, Conference & Union Leaders currently involved in or planning church planting. It includes training, materials, lodging, and meals. The Church Planters and their Conferences/Churches are responsible for the round trip transportation to the event. 
Contact Person for Registration: Stacy Stride, Registrar, (386) 454-1351
Registration is now open!  Click here to register
March 2019
March 8-10  •  Men's Convention
Enjoy spectacular speakers, uplifting music, exceptional food, and wonderful fellowship at this retreat just for men ages 13 and up!  
Registration is now open! Click here to register 
Contact Person for Registration: Stacy Stride, Registrar, (386) 454-1351
April 2019
April 11-14 •  English Camp Meeting
Registration is now open! Click here to register
Contact Person for Registration: Stacy Stride, Registrar, (386) 454-1351
April 26-28 •  Spanish Camp Meeting
Registration opens December 18th. Click here for details and registration info
Contact Person for Registration: Stacy Stride, Registrar, (386) 454-1351
May 2019
May 24-26 •  Red Zone
We are excited to be able to host this fun filled event at Camp Kulaqua on May 24-26, 2019.  The mission of our department is to: Train, Equip and Deploy an Army of Young People and to help them discover how they can play a vital role in advancing the mission of God here in Florida.
Registration opens March 4. Click here for details and registration info
Contact Person for Registration: Stacy Stride, Registrar, (386) 454-1351
MEALS for Red Zone
Select Meals Today Online! 
This registration is for Meal Tickets only for Red Zone, ticket options starting with Friday supper and ending with Sunday Breakfast. The Florida Conference has advised that Meal tickets are to be purchased by club leaders only, if you are not a club leader please go through your Club leader and have them purchase the Meal tickets under the club account.
June 2019
June 2 - 9, June 9-16, & June 16-23  •  Summer Camp
Camp Kulaqua's Summer Camp offers a summer camp experience rich in fun, friendship, and adventure while in a Christian environment. Our unique Summer Camp program allows campers ages 7 to 17 to come to camp at the same time while providing camper's their own individualized experience. 
Each age group is divided into tracks: Cub Camp (ages 7-9), Junior Camp (ages 10-12), & Teen Camp (ages 13-17). We have found that providing a camper with a program that is specifically designed for them, they are happier and more interested. Click here to learn more. Returning campers can register early from January 1-10, and public registration for all campers opens January 11. 
Contact Person for Registration: Stacy Stride, Registrar, (386) 454-1351
July 2019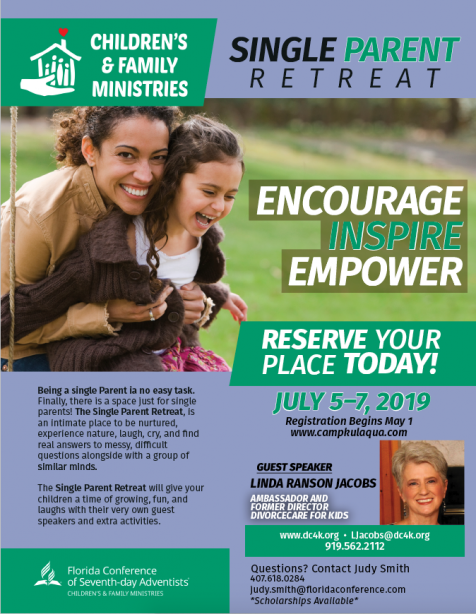 July 5-7  •  Single Parent Retreat
Being a single parent is no easy task. The Single Parent Retreat is an intimate place to be nurtured, experience nature, laugh, cry, and find real answers to messy, difficult questions alongside a group of similar minds.
Register Online TODAY!
Discounts available for overnight guests only.
If you register May 1st – May 31st you can receive a 75% discount
If you register June 1st – June 15th you can receive a 50% discount 
If you register June 16th – June 30th you can receive a 25% discount 
Please remember these discounts only apply to OVERNIGHT guests staying at Camp Kulaqua, not to the Commuter rates
Featured Guest speaker is: Linda Ranson Jacobs, Ambassador and Former Director Divorcecare for Kids 
Questions regarding the program contact, Judy Smith (407) 618-0284, judy.smith@floridaconference.com
Contact Person for Registration:
Stacy Stride, Registrar, (386) 454-1351
 
August 2019
August 30 - September 2  •  Family Camp
Come join us for a weekend of fun, friends, family, and fellowship! Take a long weekend with your family and enjoy Labor Day weekend at Camp Kulaqua!
Click here to learn more, including pricing and housing. Register online beginning February 15 and invite you friends!
Contact Person for Registration: Stacy Stride, Registrar, (386) 454-1351
September 2019

September 20-22  •  Unquenchable Love Couple's Retreat, for Married and Unmarried Couples 
Registration open now! Click here to register
Contact person for registration: Stacy Stride, Registrar, (386) 454-1351
October 2019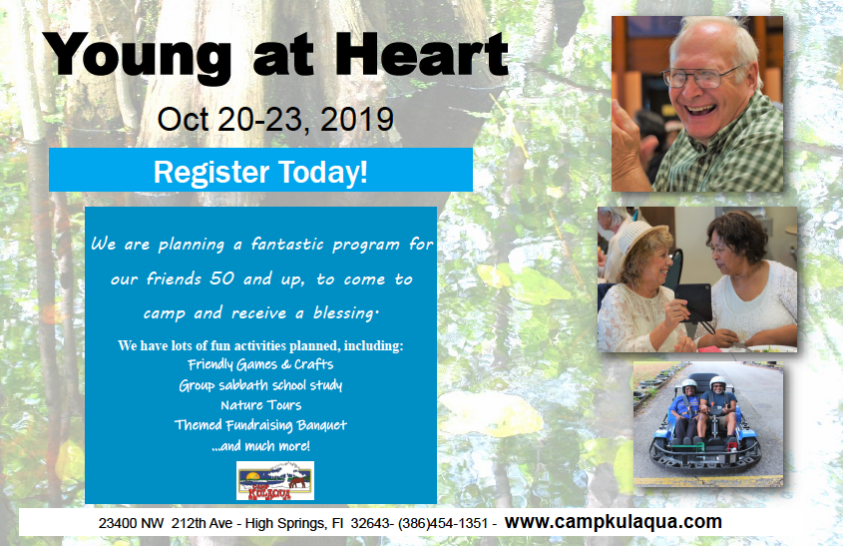 October 20-23  •  Young at Heart Retreat
Young at Heart is a retreat for those 50+ that want to come to camp and have a fun time with fellow friends.  As always, we're planning a fantastic program and are looking forward to sharing it! We believe this program will be a wonderful opportunity for our senior adults to come to camp and receive a blessing.
More info, pricing, & to register online: Click Here
Contact Person for Registration: Stacy Stride, Registrar, (386) 454-1351