Road to Bethlehem
Camp Kulaqua is hosting a "Road to Bethlehem" which will include:
Live Walk-Through Village

Tax Collector

Live Animals 

Live Christmas Production
We invite everyone to come walk The Road to Bethlehem as they interact with merchants at various booths, talk by the fireside, and banter with Roman Guards. Enter the doors by paying your taxes to Cæsar Augustus and experience a Live Production of the night of Jesus' birth.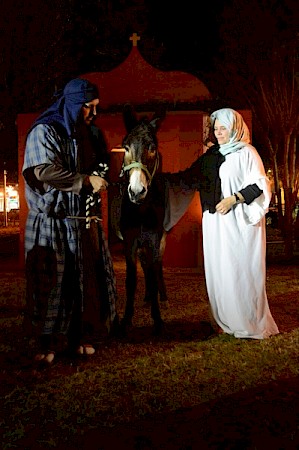 Road to Bethlehem will be featuring 3 performances:
Each performance will be limited to the first 400 people at the entrance to Camp Kulaqua.
Friday, December 15th the village will open at 5pm and the production will begin at 6pm.
Saturday, December 16th there will be two performances.

Performance #1: The Village will open at 5pm with a performance at 6pm. 
Performance #2: The Village will open at 6:15 pm followed by a performance at 7:45pm.
This event is a free gift to our community and is sponsored by Camp Kulaqua, GraceWorks, High Springs Seventh-Day Adventist Church, & Living Springs Academy.
Our primary advertising is by word of mouth and through sharing community event spaces. Any help you could offer towards promoting our event would be greatly appreciated. Share via Facebook by going to facebook.com/campkulaqua and RSVP'ing to the event and then hit the "share" tool.
Click here for a downloadable flyer to share
Feel free to contact Theresa Stride, summercamp@campkulaqua.com for more information