Safety Regulations
Welcome to River Ranch, a Christ centered, family oriented aquatics complex. In order to provide an enjoyable facility for everyone, we ask that all patrons abide by the following regulations:
No profanity or obscene jesters
No alcohol or tobacco products allowed on premises
No music via speakers / bluetooth devices to be played. We offer overhead music via our system. 
No glass containers
Wear only modest bathing attire
Infants must wear a state approved swim diaper
Keep all food and drinks at least 10 feet away from the water's edge
Please place trash in trash receptacles
No animals allowed in the facility

The staff at River Ranch strive to provide the safest aquatics facility possible. In an effort to reduce injury, we ask that you observe the following safety rules:
●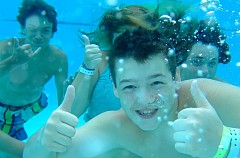 No running on the pool decks
●  No diving
●  No standing or jumping on tubes
●  No stacking of tubes
●  Enter and exit pools at designated locations only
●  No toddlers are allowed in the kiddie area while the waves
    are being made

Although River Ranch provides highly trained and certified lifeguards, there is no better way to prevent an accident or injury than by having adult supervision. Parents must accompany small children at all times.