2020 Calendar of Events
April 2020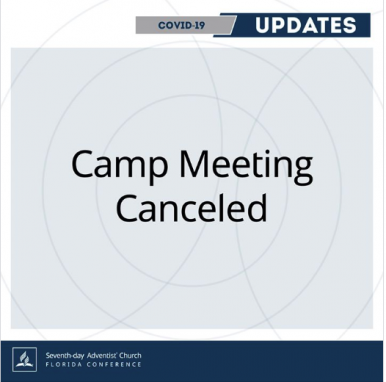 April 16 – 19 – English Camp Meeting
In following with CDC regulations, we are saddened to announce that Camp Meeting 2020 will be canceled. Those who have registered or have purchased T-shirts will receive a full refund within the next seven business days. We pray that you and your families remain safe during this time.
See Florida Conference Official post here
April 24 – 26, 2020 – Spanish Camp Meeting 
Siguiendo las regulaciones de los CDC, nos entristece anunciar que se cancelará Camp Meeting 2020. Aquellos que se hayan registrado o hayan comprado camisetas recibirán un reembolso completo dentro de los próximos siete días hábiles. Oramos para que usted y sus familias permanezcan seguros durante este tiempo.
May 2020
June 2020
Camp Kulaqua's Summer Camp offers a summer camp experience rich in fun, friendship, and adventure while in a Christian environment. Our unique Summer Camp program allows campers ages 7 to 17 to come to camp at the same time while providing camper's their own individualized experience. 
Each age group is divided into tracks: Cub Camp (ages 7-9), Junior Camp (ages 10-12), & Teen Camp (ages 13-17). We have found that providing a camper with a program that is specifically designed for them, they are happier and more interested. Click here to learn more. Returning campers can register early from January 1-10, and public registration for all campers opens January 11. 
Contact Person for Registration: Stacy Stride, Registrar, (386) 454-1351
July 2020
 
August 2020
September 2020
September 2-5 • Family Camp
Come join us for a weekend of fun, friends, family, and fellowship! Take a long weekend with your family and enjoy Labor Day weekend at Camp Kulaqua!
Click here to learn more, including pricing and housing. Register online beginning March 1 and invite you friends!
Contact Person for Registration: Stacy Stride, Registrar, (386) 454-1351
October 2020
October 18-21 • Young at Heart Retreat
Young at Heart is a retreat for those 50+ that want to come to camp and have a fun time with fellow friends.  As always, we're planning a fantastic program and are looking forward to sharing it! We believe this program will be a wonderful opportunity for our senior adults to come to camp and receive a blessing.
More info, pricing, & to register online: Click Here
Contact Person for Registration: Stacy Stride, Registrar, (386) 454-1351