Activities
Want to see more photos of our activities? Here you go!

Camp Kulaqua Retreat and Conference Center offers a huge variety of fun activities to suit all ages!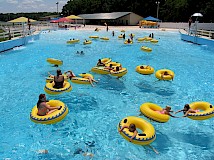 * River Ranch Water Park
Wave Pool, Lazy River, Slide and 2 Sand Volleyball Courts
Tubes and covered picnicking areas available at no additional charge
Special discounts for groups of over 40 people, schools and daycares
Meals available per reservation upon request
* Tower of Faith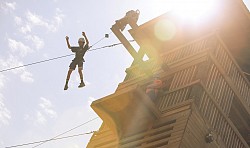 Rockwall, Zip-line & Leap of Faith
Two Rates available: Per person rate with 20 people minimum or flat hourly rate
Minimum weight 65 pounds, maximum weight 250 pounds
       ●  Take a drive around the track!
       ●  Minimum of 20 people required
       ●  Must be 10 years to ride alone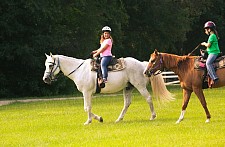 * Horseback Riding – 1 ½ hour trail ride
Come ride the beautiful trails at Camp Kulaqua! Enjoy this guided horseback riding trail as we share the beauty of our trails on horseback. 
Minimum of 10 people required; Must be 8 years to ride
Includes short instructional video prior to ride 
       ●  Ponies saddled on a carrousel round-about
       ●  Children must be able to hold on by themselves

* Putt-Putt Golf

* Natural Spring with Blob
Take the plunge and enjoy the beautiful natural water at our on-site Spring!
Has blob, shallow swimming, and tarzan swing for your group!
Lifeguards are provided by camp
       ●  Rates available: hourly or daily, with A/C or without A/C
       ●  Two indoor full-courts
       ●  New Sport Court Flooring
       ●  Basketball and Volleyball options
* Inflatable Games
2 Games available: Adrenaline Rush 2 and Bouncy Basketball
Minimum of two hours per game applies
Cruise around camp style!
Four Campfire locations to choose from
Minimum of 50 people required
 
       ● Team building course, with activities like Island Hopper,
           Rope Swing, and Trust Fall
       ● Minimum of 8 people required        
 
Exotic zoo with lions, tiger, bear, cougar, and nature center with amphibians like snakes, spiders, and aquarium
Educational tours for school groups are available!
Minimum of 20 people required
 
       ●  Daily individual canoe rental
       ●  Canoeing on camp grounds
       ●  Lifejackets are provided & required
       ●  Beautiful, tranquil walk through the spring
           and woodlands of  Camp Kulaqua
       ●  0.7 mile long boardwalk        



Hiking Trails
Flag parade, breed show, and interactive games for the kids!
Kulaqua unique rodeo is interactive and designed specific to your group!
Activities marked with an * are not available from sundown Friday to sundown Saturday. Some activities require a minimum guarantee.

Reservations are Required for All Guests
For pricing information, please contact us.
To check for availability, please fill out the Reservation Request Online.
Or call us at 386-454-1351 and we'll be happy to answer your questions!