Work at Camp Kulaqua
About Our Staff
Kulaqua's staff join us mostly from colleges and universities.
Having a good match between staff and camp is very important. We look for staff who have a passion for Christ, & a genuine interest in working with children.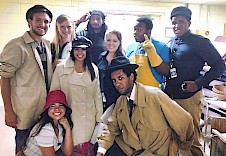 We hire staff who we believe will come to camp and "give of themselves" to our campers. Our staff should reflect a high level of maturity, dependability, trust, and selflessness required in working with children. Camp Kulaqua complete background checks on our staff and provides staff training in accordance with ACA's accreditation (American Camp Association) standards. 
Counselors and staff responsible for campers MUST be over the age of 18. It is important to understand that no person under the age of 18 can be considered for a counseling position, or to be the 'sole caretaker of a child' and there are limited job opportunities for applicants under the age of 18 due to child supervision allowances set forth by the American Camp Association and the Department of Children and Family Services here in the State of Florida. Positions for staff under the age of 18 are very limited due to limited positions.  You are welcome to apply for alternate positions - like lifeguards and office staff.
Important Dates
Camp Kulaqua's Summer Camp operates a three-week summer season, as well as a week of pre-camp staff training and orientation. During "staff week" we go through a series of training that include: camp operation, staff manual & policies, games, and team building. It is both a fun and busy week as we learn skits, setup equipment, and prepare for campers. Staff are required to arrive the first day of staff week and stay the full length of camp. Administrative Staff are scheduled to arrive a week prior to regular summer staff.