Schedule for 2021 Family Camp
Activities & Events
Gathering Places at Kulaqua
Designated areas around camp have been designed to give you a place to socialize, be together in small groups, and connect. Available to you:
Picnic Pavilion - located near the spring
The Gathering Place - located near the Cafeteria, with chair swings & fire pit
A-Frame - indoors with couches, board games, & ping pong table *mask rules applies*
Activities that require closed-toed shoes:
Closed-toe shoes required - All horse-related actvities, pony rides, Pet a Pony, Tower of Faith, & Go-Carts.
Tower of Faith - waiver signed by adult (available in back of the Cafe or at the Tower), & weight limits are 65lbs-250lbs
Go-Carts - Ages 10+ can drive on their own.... Under 10yo ride with a licensed driver
Afternoon Craft on Sabbath
Stop by anytime from 2pm-6pm on Saturday to make the provided craft activity. We have crafts available for all ages!
Saturday's Rest Stop
Join us for this fun event as we play have a nature show, enjoy snacks and drinks, and have a BUBBLE FOAM PIT! 
Extra Precautions at Camp
Absent a legal exception, all patrons must wear facial coverings, including while entering, exiting, or otherwise moving around inside buildings until seated with your party.
Daily Screening Checks will be asked prior to entering the Cafeteria
Buffet lines have been removed and Cafeteria-serving lines have been implemented during this time for food & drinks.
Family Movie Night
Featuring "Inside Out" join us for Popcorn & movie at the Spring Chapel. We encourage you to bring a pillow & blanket, as there is an open floor to lounge out. 
YeeHaw Shenanigan Show
Bring your whole family to have some laughs, have your ticket drawn in a race against the clock, & watch horse games as our contestants compete! Sign ups for the horse-related games are Saturday night at 8:15pm outside the Gymnasium
Questions? Ask us!
 
Ichetucknee Tubing
Depart from Kulaqua at 8:15 am sharp
The river CAN fill. Please leave on time
River wristbands - MUST be worn to to ride the tram transport. Everyone, including young children, must wear it.
Tubes - take your tube voucher to the Park's Store Ticket Window to redeem it for a tubing ticket.
River Options according to the length: 
-Dampier's Landing tubing (recommended)
2 hours full for River Trip
(5 min walk to put in; tram to return to the park)
- Midpoint tubing - 3 hours for full River Trip 
(10 min tram ride to put in; tram to return to the park)
Rafts (optional; $$) - To rent a raft, you can go to the store at the park and rent a raft for your family. Prices pictured below.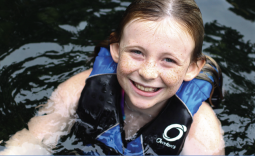 Extra tidbits for your River Experience
Wear your tram wristbands -1 for each person
You will return to Kulaqua in time for lunch. There is a general store at the state park if you wish to purchase water or snacks.
The river is fast-flowing, give life vests to anyone who cannot swim well & have a tube/raft for each person.
You will be walking on uneven terrain; water shoes are recommended.
Directions to Ichetucknee
Follow signs for the SOUTH ENTRANCE and we are putting in at Dampier's Landing or MidPoint; proceed to the south Entrance.
Ichetucknee Springs
12087 SW U.S Highway 27
Fort White, FL  32038
Camp Store Hours
Sunday: 10:00am-3pm
Monday: 9:30am-2:00pm