Discounts & Payment Plans
Bringing a Friend Discount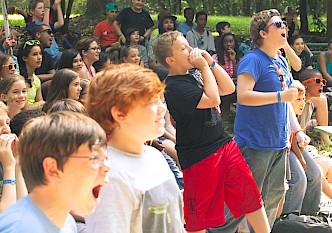 This discount is available to campers who bring a friend to camp who has not attended Camp Kulaqua for the last two years or longer. The friend that you list must be registered before your discount will be approved and show as a credit on your account.
Save up to $250 by Bringing a NEW Friend to Camp!
$50 OFF.....Bring a New Friend *First Friend*
$50 OFF.....Bring a New Friend *Second Friend*
$50 OFF.....Bring a New Friend *Third Friend*
$50 OFF.....Bring a New Friend *Fourth Friend*
$50 OFF.....Bring a New Friend *Fifth Friend*
*No discounts can be applied to the Horse Mountain Adventure Camp
Names can only be claimed once and priority is given to the sibling of the new friend, or in the order in which it is applied for. If more than one person claims the same "new friend" then the discount is granted by the order it was received. For instance, if Camper #1 claims New Friend Cody on Monday and on Wednesday Camper #2 claims New Friend Cody, Camper #1 receives the discount because they claimed first.
Multi Week Discount
$20 OFF for the same child attending a second week of camp!
Additional $30 OFF for the same child attending a third week of camp!
This discount is automatically applied at checkout
Fl Conf Church Member Discount
30% discount for active members of a Florida Conference of Seventh-day Adventist Church. Price discounts can be viewed in registration at time of checkout. *Cannot be applied to Horsemanship Specialty Camp*
These churches help with financial support for Camp Kulaqua through their local church offerings.
Payment Plans
Automated payments are available for you and are easy to setup. Simply register your camper and choose this option in the payment section; this breaks up the cost of camp over a length of time and hassle-free low payments towards your balance of camp.
Campers must be paid in full the Friday prior to check-in. Any unpaid balance is due upon arrival at camp.